Step into the past with Living History Nights presented by the Gallipolis Chautauqua Committee. Each night a scholar will assume the role of a notable historical Ohioan and perform a monologue based on the life of that individual. Followed by an audience Q & A and then a meet & greet with the scholar. Performances are suitable for students and adults. Music is performed by local musicians at 6:15 PM and performance begins at 7:00 PM.
George Armstrong Custer
Born 1839 in New Rumley, Ohio, Custer spent most of his youth living with his half-sister and her husband in Michigan. After graduating from McNeely Normal School (Hopedale Normal College) in Ohio he entered the U.S. Military Academy. After nearly being expelled several times and accumulating 726 demerits in just four years, he graduated last in his class in 1861. He entered the army as a second lieutenant and saw action at the First Battle of Bull Run where he gained the attention of Major General George B. McClellan, the commander of the Union Army. He joined McClellan's staff where he was known for his bravery, brashness, and his love for publicity. In 1863, at the age of 23, he became a brigadier general of U.S. Volunteers – making him the youngest general at that time. Dubbed the "Boy General", Custer played a key role at the Battle of Gettysburg by preventing General J.E.B. Stuart from attacking Union troops. He participated in the Shenandoah Valley Campaign and received his final promotion of the war, to major general of volunteers. He and his men took part in the Battle of Appomattox Court House which ended the war in April 1865. Known for his flamboyant appearance and his "Custer Luck", he emerged relatively unscathed from the war despite having 11 horses shot from under him and receiving only one wound from a Confederate artillery shell during the Battle of Culpepper Courthouse. (Source: Britannica.com, History.com, NPS.gov)

About the scholar: Rick Williams is from Middletown in Butler County, Ohio. He is a U.S. Army veteran who served in the mid to late 70's in helicopters and artillery. Williams began Civil War reenacting in 1999 joining a Kentucky cavalry company where he learned cavalry and served on horse artillery. He served with several cavalry companies in Ohio rising through the ranks to Corporal, First Sergeant and 2nd Lieutenant. In 2001 he appeared as an extra as a Confederate cavalryman in the movie "Gods & Generals". In 2003 he first appeared as Custer. In 2007 Williams earned the role of Custer at the Last Stand reenactment in Montana which he held for 8 years. During this period he also appeared several times on the History Channel and the Smithsonian Channel. In 2009 he appeared as Custer in the movie "Reel Injun". Throughout his cavalry career he appeared in numerous domestic and foreign documentaries. Williams has appeared at events and reenactments from California to New York. He has been the official General Custer for Custer's hometown of New Rumley, Ohio through the Custer Memorial Association for 15 years. Currently he serves as Captain and Commanding Officer for the 5th Ohio Light Artillery. Williams is a 1995 graduate of Daemen College in Buffalo, NY with a B.A. in Psychology. He retired after working many years in the developmental disabilities field. Williams and his wife live on a small farm in Clinton County, Ohio.
Woody Hayes
Affectionately known as "Woody Hayes" by legions of Ohio State University football fans worldwide, Woody is arguably the most popular sports figure in all of Ohio's storied sports history. Raised in rural Ohio, he learned to love athletic contests for the leadership and tenacity that it developed in young men. He particularly loved football for the teamwork and leadership skills it developed. As he went to college and played football at Denison, he became a devout student of history and strategic thinking. He studied many of the great strategists in the world, and learned at an early age that men needed to be given a direction, and guided to develop a strong work ethic in order to become great Americans. While at The Ohio State University, pacing OSU's sidelines as head coach from 1951 to 1978 he won five national championships, captured 13 Big Ten Conference Championships and amassed a record of 205 wins, 61 losses and 10 ties. Hayes built a reputation for demanding uncompromising loyalty in the pursuit of victory. He described his philosophy of football as a "crushing, frontal assault of muscle against muscle, bone upon bone, will against will". As a history professor, he frequently invoked many of the great war strategists to teach his students and players what it took to win on the field, and in life. Many who worked and studied under Woody revere him as the most defining mentor in their lives.

About the scholar: Jim Stoner has spent a lifetime on stage, and ten years ago he began creating a portfolio of living history characters as a regular performer at Mount Vernon, Ohio's bi-monthly Chautauqua Series at the Grand Hotel. Jim has portrayed a variety of history's most unique personalities including, but not limited to Edgar Allen Poe, Will Rogers, Woody Hayes, Robin Williams, and this year Neil Armstrong and Roy Rogers and Dale Evans with his real life wife Amy K. Stoner. Jim's performances result in frequent appearances at schools, churches, and events across the Midwest. Jim researches each character and designs his own presentation and enjoys "bringing each one to life". He is a graduate of Benjamin Logan H.S., and The Ohio State University. He is a career sales and marketing professional, and a playwright/screenwriter. He is most notable for having written "The Black Cyclone". Jim has presented as "The Coach" eight times and truly attempts to capture the essence of Wayne Woodrow Hayes in his formative years, experiences in life, WWII, clear through his iconic career at The Ohio State University.
Mad Anne Bailey
Born in Liverpool, England, Anne Hennis came to Staunton, Virginia and married Richard Trotter. Richard was killed in Dunmore's War at the Battle of Point Pleasant October 10, 1774. Driven to madness in her grief and unable to care for their son, Anne left William in the care of others and became a renowned spy, scout, and huntress during the American Revolution and Indian Wars. Anne married John Bailey in 1785. Anne Bailey became the heroine of the Kanawha Valley in 1791 when Fort Lee was facing attack by the Shawnee. Known as the White Squaw of the Kanawha Valley to some, and Mad Anne to others, Suzanne Thomson tells Anne's amazing story of frontier devastation, madness, and daring triumph.

About the scholar: Suzanne Thomson has spent more than ten years researching and portraying the historical figure Mad Anne Bailey. Thomson has been painted by several renowned artists, appearing in more than a dozen paintings depicting Anne Bailey and life in the 18th century. Suzanne is a staff writer for Muzzleloader Magazine and contributing author to Muzzle Blast Magazine, Journal of the Early Americas, and On The Trail magazine. She is the founder of OWL Outdoor Wilderness Ladies, an organization dedicated to getting more women in the woods and on the trail. In her "real life" Suzanne is a busy mom, happy wife, and business executive.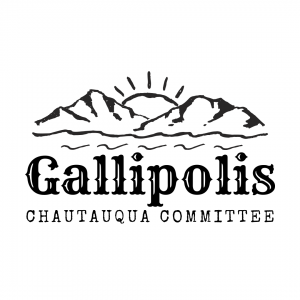 The Gallipolis Chautauqua Committee is comprised of local community members who are passionate about bringing history alive for Gallia County residents and visitors. Members include; Debbie Saunders, Chairperson (Bossard Memorial Library), Bob Hood (Field of Hope Community Campus), Amanda Crouse (Gallia County Convention & Visitors Bureau), Lynn Pauley (Bossard Memorial Library), Kaitlynn Halley (Gallia County Convention & Visitors Bureau), David Moore (Gallia Vinton Educational Service Center), Samual Wilson (University of Rio Grande) and Rachel Newberry. Follow the committee on Facebook, facebook.com/GallipolisChautauquaCommittee.